Hey there did you know there are so many FREE Tools available online to create engaging social media content. Why spend thousands of dollars when you can create awesome content for FREE simply and very easy with no design experience. Here are 3 Tools I use almost daily.
 1) Pablo By Buffer
Buffer is awesome. Now Buffer has a social media creation tool named Pablo. Create stunning images for Facebook, Twitter, Instagram and Pinterest. Pablo has thousands of images to choose from or you can upload your own. Create header images for blog posts, inspiring quotes with amazing backgrounds, or add some juice to that next Social Media Post with a call to action image. Check out some of the creations I've made with Pablo.
2) Pic Monkey
Pic Monkey is a free website to create and edit pictures. Create your own Facebook Heading, Twitter Cover or Photo Collage. Crop pictures and resize pictures or add a font overlay to an image. Fix those blemishes on head shots or add something funny to your picture. Do you need a design for the holidays? Pic Monkey has hundreds of themed content to create the perfect holiday card or social media post. There are hundreds of fonts and backgrounds to choose so you will be sure to find something perfect. Upload your own overlays and backgrounds as well, get creative.
3) Giphy.com
Are you seeing all those moving pictures on social media. Make your pictures move with Giphy. Giphy has millions of Gif's to choose from to fit exactly what you are trying to say. Do a happy dance! Tell someone Thank You! That look that explains exactly how you are feeling right now. Create your own Gif's with their creator tool or even better upload a few pictures and create your own branded slide show. Some people don't have time to read a blog, or watch a video, but know one passes up a 3 second GIF. Turn any Gif into a video for sharing onto instagram. We all love stickers right? Search the millions of stickers to say "Happy Birthday", "Job Well Done" or tell that special someone you "Love Them."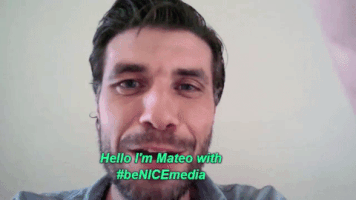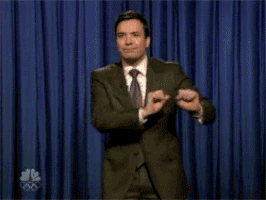 Creating content for Social Media does not have to be complicated. There are easy to use tools and some great ways to make your content fun and entertaining. What are some FREE Tools you use to create content. I love to for you to share them with me.
Mateo Garcia
President
#beNICEmedia
P.S. Don't Have Time To Create Content? Let Us Do It For You! Become A Client.